Healthcare Provider Retreats & Workshops
Retreat For Healthcare Providers
Nourish your mind-body-spirit with activities designed for stress reduction, personal restoration, harmonious relationships, and daily life balance.
Self-care is never a selfish act – it is simply good stewardship of the only gift I have, the gift I was put on earth to offer others. Anytime we can listen to true self and give the care it requires, we do it not only for ourselves, but for the many others whose lives we touch. ~Parker Palmer
Programs Designed for. . .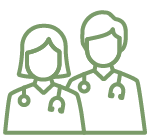 Our presenters are skilled in various fields. Our programs can be scheduled at your place of work or at a retreat/conference center away from your daily routine.
Please take a moment and view our Healing the Healers Brochure for more details.
Learn more about hosting your next retreat or meeting at Mercy Center Auburn.
Our meeting spaces provide the privacy and updated technology necessary to fully concentrate on your particular goals, and our 33 acre campus offers many outdoor areas for meditation and relaxation, including garden paths, meditation groves and a labyrinth.