Sponsored by the Sisters of Mercy of the Americas, Mercy Center Auburn Mercy Center Auburn serves individuals, groups, religious organizations of diverse faiths, and non-profit organizations. The Center also hosts educational, corporate, and other groups whose programs and philosophy are consistent with the mission of the Center.
Our 33 acres provides an environment of serenity and natural beauty. We offer retreats and programs that enrich the lives of women and men in search of sacred space for quiet reflection and spiritual growth.
Mercy Center Auburn offers and supports opportunities to enhance the life of prayer and spiritual growth of persons and communities. We offer hospitality to persons, ministries, and service groups whose philosophy and beliefs are in harmony with gospel values. We host groups who, like the Sisters of Mercy, are committed to the betterment of the poor, the sick, the uneducated, and the "seeker."
Retreat Center Director
Spiritual Director/Retreat Facilitator
Zulma Esquivel-Diaz M.Div
zesquivel@mercycenter.org
Administrative Assistant/Hospitality Coordinator
rlionello@mercycenter.org
With a beautiful view of our manicured grounds, our Sierra Chapel offers private, contemplative space for personal prayer, reflection and worship.
The Chapel can accommodate up to 45 people for services or gatherings. Silence is golden in this space, but there is a piano available. The Chapel can also be used as a meeting space.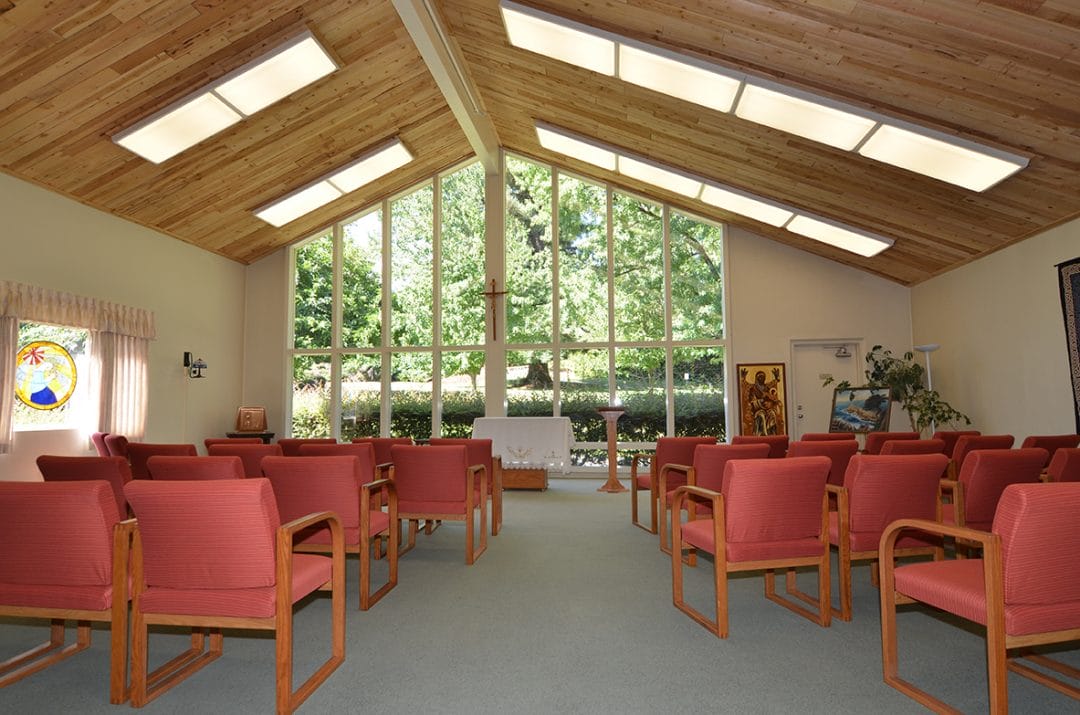 Walking a prayer walk is no ordinary stroll – it's a journey back in time to the Passion of Christ. The beautiful Stations on the campus of Mercy Center Auburn invite you to reflect on the events leading up to Jesus' death.
Take some time to journey through the Stations of the Cross during your visit to our beautiful grounds.
It is through the generosity of our donors that Mercy Center Auburn is able to continue the mission of the Sisters of Mercy to "offer and support opportunities to enhance the life of prayer and spiritual growth of persons and communities." Your donation allows us to provide scholarships and make ongoing improvements to our Center in an effort to accommodate our many guests. You will be remembered in the prayers of the staff and Sisters as we celebrate over 20 years of retreat ministry.​
If you are interested in making a donation in support of Mercy Center Auburn's ministry, please complete the donation form below.
"Hospitality is not to change people but to offer them space where change can take place. It is not a method of making our God and our way into the criteria for happiness, but the opening of an opportunity to others to find their way to God and their way. The paradox of hospitality is that it wants to create emptiness – a friendly emptiness where strangers can enter and discover themselves as created free – to sing their own song, speak their own language, dance their own dance." (Henri Nouwen)
Learn more about hosting your next retreat or meeting at Mercy Center Auburn.
Our meeting spaces provide the privacy and updated technology necessary to fully concentrate on your particular goals, and our 33 acre campus offers many outdoor areas for meditation and relaxation, including garden paths, meditation groves and a labyrinth.